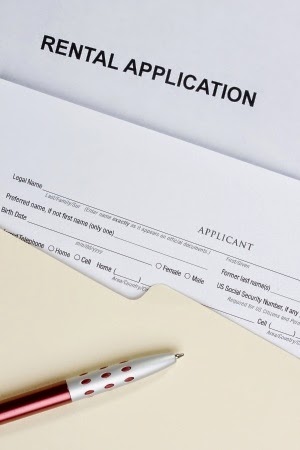 If you're thinking about applying for one of our rental properties at Chesapeake Property Management, let's go over the process.
1. Complete the Chesapeake Property Management Rental Application First
We have every prospective tenant complete an application before we show them homes. Why do this? When buying a home, you speak to a lender first before shopping. We want our tenants to be qualified and approved before shopping for a rental home. This not only protects you emotionally from falling in love with a home you cannot afford or get approved for, but it also protects the home's occupants (whether the owner or existing tenants) and our agents.

Our rental homes are usually occupied and are more than just model homes. By qualifying all applicants before we take them in, we want to minimize the inconvenience to the occupants and keep them safe. It is a crazy world out there, and we need to know who everyone is.
2. But I Don't Want To Pay For A Rental Application Until I Know That I Want To Rent a Home!
We know you'd rather only spend money on a credit report or have your credit pulled once you know you like the home. We get it. Many pictures and videos are posted online, and we encourage you to drive around the neighborhood and pull your own credit before applying with us.

Each home is individually owned, so credit requirements and pet restrictions may vary. Homeowner associations and condo rules may also vary. By knowing your particular situation, we can tell you which homes will work for you before we take you into them.
Renting an Individually Owned Home vs An Apartment: What's Different?
3. The Advantages To Getting Approved First.
First, you will be a knowledgeable applicant. You will know your credit scores and your gaps so that you can correct errors, if necessary. There are many errors on credit reports today, which can be upsetting and time-consuming. Let's get this all cleaned up before you fall in love with a home because sometimes this cleanup takes months, requiring you to put off your move until you get this resolved.
Second, once you are approved with us for one property, you are approved for ALL of our properties. Went into a home you thought you wanted but found it wasn't for you? This is okay. You can look at our other homes. Once approved, you go to the top of our list so we can submit your application to a different landlord. Not a problem. We know what our landlords want regarding qualifications and your situation, and we can easily match you to homes that will work for you.
Third, you know what you have to work on if you get rejected. Knowing your credit and the reasons for the rejection helps you plan your move in the future. We know this can be disappointing, but you can put a plan in place to help you move later.
4. What Delays A Rental Application? Incomplete Information.
Please complete the entire rental application, including the asset section. Please provide us with pay stubs, proof of income, and payment for the application fee.

We provide detailed instructions on the front page of the application. Please read it and take your time and call us if you have questions. The number one reason applications are delayed is because someone missed a part of the instructions.
Why Tenant Qualification is Important
How Does A Self-Employed Applicant Get Approved For A Rental Property?
5. Be Ready To Talk To Us And Answer Our Questions.
If we have questions about your application, we will call you. The more you help us understand the gaps, the quicker the process will go. We know that we may be more detailed than other rental companies, but that is because we care. We care about you, the landlords, the homes we manage, and the communities. By understanding everyone's situation and needs upfront, we can avoid many problems later. Our goal is to have the most pleasant rental experience possible. Work with us so that we can present a complete application to the landlord.
How Chesapeake Property Management Came To Be
6. Once Approved, Get Ready To View Our Rental Homes Quickly.
Our rental properties move fast. They are in great shape, and our owners know their responsibilities. Call your agent or work with one of our team members so you can make a decision quickly.
Moving To Baltimore Because of Match Day?
Moving to Owings Mills, Maryland? 11 Reasons You'll Love It!
7. Once You Make A Decision On A Home, Complete The Lease And The Remaining Steps Quickly And Completely.
We can only take a home off the rental market once we have a signed lease, security deposit, and first month's rent. The quicker these items get to us in the correct format, the better. Otherwise, you risk losing the home to another applicant. In addition, you will need tenant insurance and may have to complete paperwork for the homeowners and condo association.
8. Be calm.
Once you are moved into one of our homes, we assure you it will be a great experience. We ask for a lot upfront, and the details that we expect from you we also expect from our landlords and from ourselves. Everyone in the transaction deserves the best.
9 Reasons To Rent a Chesapeake Property Management Home in Baltimore
9.

Welcome to Chesapeake Property Management, Inc. and g

et ready to enjoy your new home!