Wondering What's Involved in Becoming a Tenant?
Download Introduction to Being a Tenant and find out about the ins and outs of becoming a tenant in the Baltimore, MD area.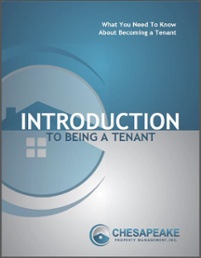 Perhaps you're renting a home for the first time. Or, it's been a while and you're looking for a refresher on what's involved. Find out what to expect from the experience and from Chesapeake Property Management by downloading this guide.
Download our 18 page Introduction to Being a Tenant eBook now to learn:
How to get started finding a rental property
How to become qualified as a tenant
Questions to ask your landlord before you rent
How to move from renting to buying a home
Get your copy today by filling out the form on the right.
Complete this form to download the Introduction to Being a Tenant eBook!