Hampden/Remington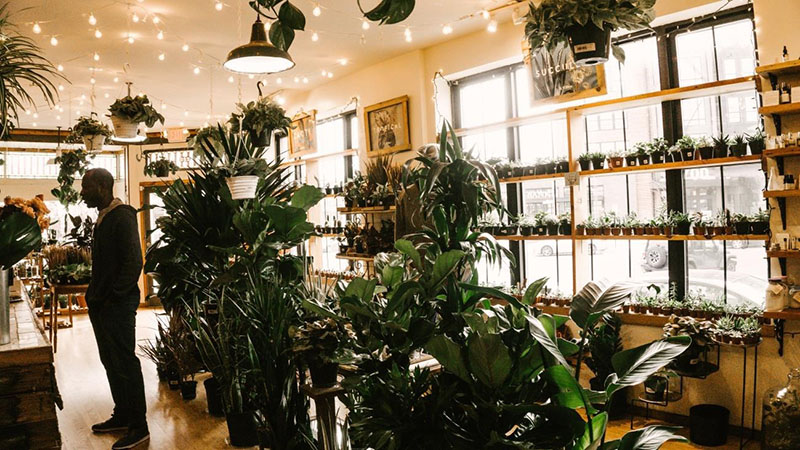 Pictured, local plant shop, B Willow, located in Remington.
Why Residents and Visitors Love Hampden and Remington
Baltimore is known as the city of neighborhoods. Each with its own special qualities that differentiate it from the others. When I think of communities that are inherently Baltimore, both Hampden and Remington come to mind. Living in the city and spending a lot of time in both areas has made me appreciate the unique features of each neighborhood.
Walkability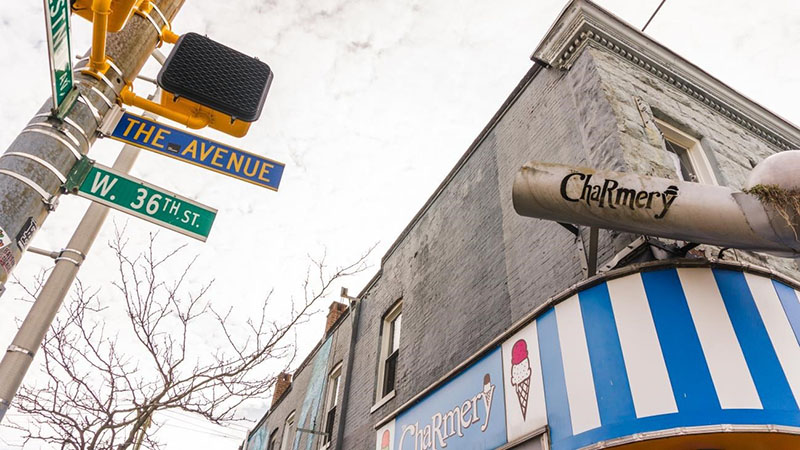 The Avenue, also known as 36th Street, is the central area for the best local restaurants & businesses in Hampden, including the flagship location for Baltimore's favorite local ice cream shop, The Charmery.
As a resident of Hampden and a frequent visitor to Remington, one of the largest benefits to living in or visiting Remington and/or Hampden is the walkability of the areas. I'm able to walk to the newly redeveloped Rotunda to visit Mom's Organic Market to pick up ingredients for dinner or grab a late night snack on the Avenue (36th Street) at the Charmery for one of their inventive ice cream flavors.
Some of the best spots in Remington are just as easily accessible by foot. Taking a walk through Wyman Park Dell on a sunny Saturday morning and then making my way over to the Baltimore Museum of Art (making a quick stop at Charmington's for my morning coffee, of course) is my ideal way of spending part of my weekend. Both neighborhoods are very pedestrian and cyclist friendly and are conveniently located near Johns Hopkins University.
Keeping the Baltimore Charm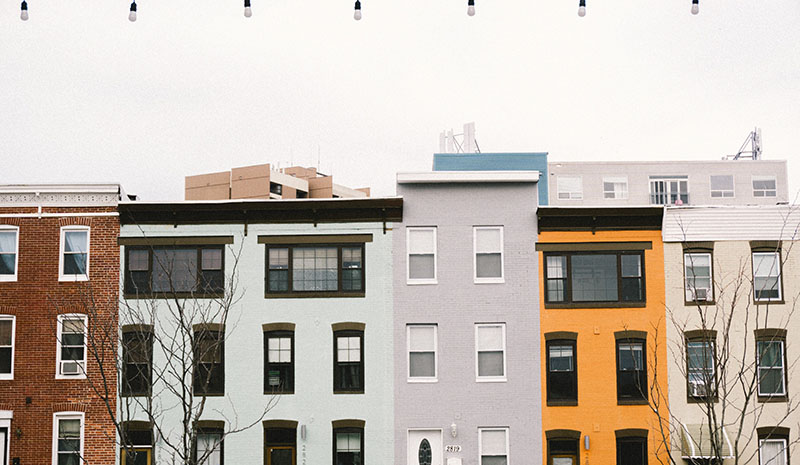 Brightly painted row homes along Remington Avenue.
While a lot of the communities in Baltimore have luxury apartment and condo buildings popping up left and right, Hampden and Remington are still thriving with most residents living in detached homes or row homes. Locals appreciate the unique features of these older homes and many are completing renovations and updates while still keeping the Baltimore row home aesthetic. Both of these areas are affordable, charming, and offer a range of housing options. Both are popular areas for Hopkins residents, fellows (Match Day is here), employees, WBAL employees, and more!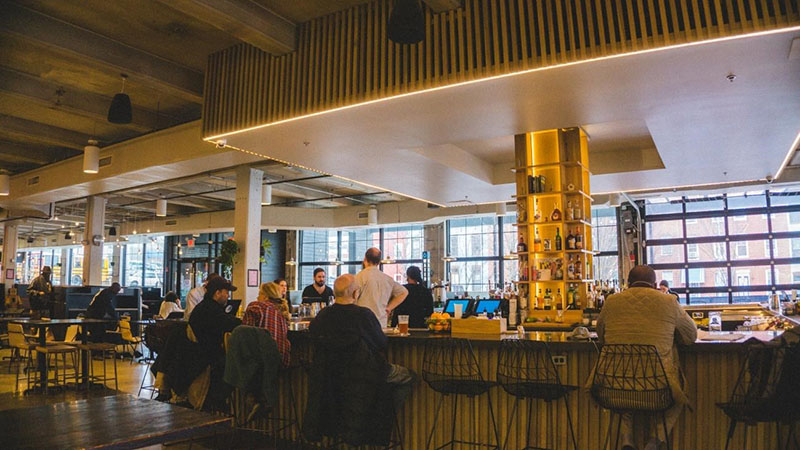 Patrons gather at R Bar located at R House in Remington for an after-work cocktail.
Unique Sense of Community
Hampden and Remington are both communities full of flair and personality. Hampden in particular is known for Hon Fest, a celebration of old Baltimore and is the proud location of the quirky Hon Cafe. Hampden also has the Union Collective, a large community based retail space which features Union Craft Brewing's taproom and brings together other popular businesses like The Charmery and Vent Coffee Roasters. Not only is it a great spot to get a local brew, but the collective also hosts an array of events including musical performances and art/craft markets that highlight the Baltimore arts community.
Bringing Remington's community together, is the amazing creative space, Movement Lab. The space unites yogi's, dancers, and fitness novices and enthusiasts alike. Movement Lab offers an incredibly diverse selection of classes and events, providing a space for anyone and everyone to come and, you guessed it, move! Need to replenish after an intense yoga class? R house, is located right below and offers a unique dining experience, as it is a modern take on a food hall with incredible options including Mediterranean food, poke bowls, vegan fare, and much more. There is always something going on in Remington and Hampden! Both areas offer a multitude of local businesses that you won't find anywhere else.
Whether you're looking to buy or rent a Baltimore City home, Remington and Hampden should be neighborhoods at the top of your list!
Looking for a property manager for your Remington home or Hampden home? Or are you thinking about renting OR selling? Contact us today!