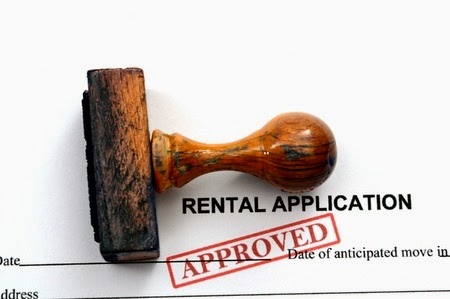 Deciding which rental applications to approve and which to reject is a very important topic that can be very personal.
We take very seriously the fact that we have access to so much personal information - we know how much money people make, their debts, how often they move, how long they have been at their job, what assets they have (or don't have), and their relationships. It is a lot to digest and very time consuming to sort through.
However, it is also critical to Chesapeake Property Management's success and our mission to bring a higher level of service and professionalism to the property management business.
While our competitors often farm out the application review process (because it is so time consuming and complicated) we view it as one of the most important things that we do.
>> See Why Choose Chesapeake Property Management To Manage Your Baltimore Area Home?
1. As a prospective tenant, you are more than your credit score.
First of all, you are more than your credit score. We never want to forget that we are people helping people.
Our tenant applicants are people with hopes and dreams and stories behind their credit scores. And we need to be sensitive to it. It does not mean that we can approve everyone, but we do try to be empathetic and make sure that we understand the story behind the numbers so that we can help our Landlord make an educated decision as to whether to approve this applicant or not.
For example, two people may have the same credit score for very different reasons. One person may have a low score because they just don't pay their bills on time, ever. Another person may have a low score because of a "blip," i.e., they had a medical situation or job change at one point in their life. By looking closely at their credit history, we can see that they have a history of paying their bills on time but at one particular time, they were in a bad spot. We can see it, we can track it and they can explain and support it with documentation. We seek to understand before we make a decision.
Is this time-consuming? Yes. Would it be easier to farm this task out to a 3rd party and just view everyone as a number? Yes. But we don't do it. We want to know the people behind the scores and we view our choice to review applications in-house as one of our critical points of "difference" between us and our competitors.
>> See Who Can You Trust in Property Management?
2. Chesapeake Property Management's tenant application is detailed and lengthy.
Here is our current tenant application.

It is detailed and lengthy. Each section is there for a reason so please don't skip any sections. Often, applicants will skip sections that make them uncomfortable or which require some time to complete. For example, if an applicant does not have assets they skip the "asset" section hoping that we don't notice. Please don't do this. It just delays the process and forces us to send the application back to you. Complete every section and feel free to elaborate on a separate page if there is more that you think we need to know. Whatever you send to us, we will review.
>> See Thinking About Applying For A Rental Property? Here's The Process
3. Please make it easy on us to understand your situation.
Some applicants send us reams of paper. So much information that we are completely overwhelmed. Just complete the application and attach supporting documents. No need to send us more than we need or confusing information. If it is too hard for us to understand and organize, we will give it back to you and ask you to redo it in a format that we understand.
>> See Applying For A Rental Property - Take 2
4. Credit scores do matter.
Yes, they matter. We pull a tri-merged credit report on everyone over the age of 18 who will be living in the home. Everyone. Often there is one partner with a good score and one with a lower score. We still need to pull credit on each partner and know who you are and your financial situation. If you are going to be living in the property, even if you have a low score, please complete the application. By not doing so, you just delay the process.
>> See Check Your Credit Report Before Applying For a Rental Property!
5. Detail all of your sources of income.
We often have applicants with multiple sources of income. Write it all down. If you don't write it down, guess what? We don't know about it and can't count it towards your qualification numbers. Child support, alimony, a part-time job... All of it helps and we need to know the details.
Please, take your time, go through every line of the application and make it easy for us to understand your financial situation. Send documents supporting your sources of income in a format that is easy and understandable.
>> See How Does A Self-Employed Applicant Get Approved For A Rental Property?
6. Detail all your debts.
Please complete this section completely. If you own a home and are renting it out, write that down and attach the lease, if possible. If you have co-signed on cars, school loans, anything, those debts are your debts so please disclose them to us. It will all come out on the credit report but it is so much easier when the application matches the credit report. It saves us from asking you a lot of questions and makes us comfortable knowing that we have a financially knowledgeable and honest applicant.
7. List all of your assets.
We get it. We understand. If you had a lot of assets, you would probably not be renting. Don't be embarrassed. We just need to see that you can afford the security deposit, first month's rent and have a small cushion.
8. We do need to check your criminal background, foreclosures, tax liens.
We do check all of this information. However, it is better if it comes from you and you explain it. So write it all down and attach it to your application, help us help you by giving us answers and explanations.
9. Don't forget the other important information!
Write down the property you are interested in, the time frame, your agent's name and anything else that we need to know.
Believe it or not, many applications come in without identifying the properties that the applicant is applying for. We have no idea what these applicants are interested in and often have to track them down only to tell them that the home has already been rented. Call us. It is quicker and easier to help you if you just give us a call.
>> See Looking For A Baltimore Rental Property? Don't Look On Zillow!
10. If you are unsure about the process, give us a call.
Let us help you. Moving is tough and renting an individually owned home is unique.
>> See Renting an Individually Owned Home vs An Apartment: What's Different?
We want this to be a positive experience for all parties involved. If you have questions or concerns, contact us directly and let us put you at ease.