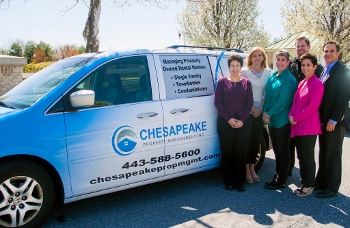 Not everyone needs to hire a property manager. Although we think that hiring a property manager is right for about 95% of the population, there are a few homeowners who are able to manage their own homes without us.
If that is the case, we help them rent it out, i.e., get into compliance, market the home and write the lease, but then the homeowners manage their homes themselves and we step out of the relationship.
If you satisfy most of the criteria below, you may be "good to go" on your own. Let's take a look.
7 Reasons To Not Hire a Property Manager
1. You are staying local.
When I say local, I mean really close to the property, i.e., within a few miles. So that if the tenant calls you with a repair or a situation, you as the homeowner can check on it quickly and easily.
>> See How Chesapeake Property Management Came To Be
2. You have a flexible schedule.
So that if tenants call in the middle of your work day and they have an urgent repair or are locked out, you can take the call and handle the situation promptly and efficiently.
>> See How To Prepare Your Home For The Rental Market
3. You are calm and unemotional.
What is your temperament? When the tenant calls and tells you that they just punched a hole through the wall, can you remain calm and unemotional? What about when the neighbors call you on a Saturday night to complain about the noise coming from the party at your rental home? If you are going to fly off of the handle every time an issue arises, then managing your own home is not for you. Do yourself a favor, hire a property manager so that you can enjoy your life.
>> Should I Sell Or Rent Out My Home? What Is Your Temperament?
4. You are somewhat handy.
Whether you choose to repair the problem yourself or hire someone, you need to be able to assess the situation correctly so that you can hire the appropriate contractor the first time.
>> See Who Is Doing the Repairs on Your Rental Property
5. You have a reliable list of contractors.
You need to know who to go to for what. Legally, per the lease, you are obligated to provide a home with all systems in working order. You need to get repairs fixed promptly and correctly so that you abide by the terms of your lease. We have a list of vetted contractors who know us and trust us. When we call with an emergency, these contractors take care of us and put our repairs at the top of their list. After 17 years in business, we have solid relationships with excellent vendors who take care of us and our clients.
>> See Chesapeake Property Management Vs. Other Property Management Companies
>> See How A Good Property Management Company Can Save You Money
6. You understand your responsibilities in the lease.
Know your responsibilities and do the right thing. Don't be cheap and inaccessible. You want to be a good landlord, keep your tenant safe and do the right thing so you stay out of the court system. We strive for a win/win relationship between landlord and tenant.
>> Why Tenants In Baltimore Need Working Carbon Monoxide Detectors
7. You care about your home and your neighbors.
When the neighbors call you to complain, you have to care. You do not want to dump bad tenants on your neighbors. Be accessible to all parties that have a concern about your home.
>> See Renting an Individually Owned Home vs An Apartment: What's Different?
If you do not satisfy most of the criteria above, call us. Most tax advisors will tell you that property management fees are tax deductible so it really is a good deal. Hire a professional, deduct your expenses and move on with your life. Our job at Chesapeake Property Management is to make your life easy. Give us a call.
>> See 9 Reasons To Rent a Chesapeake Property Management Home in Baltimore
>> See Rental Property Tax Deductions & Depreciation For First Time Landlords