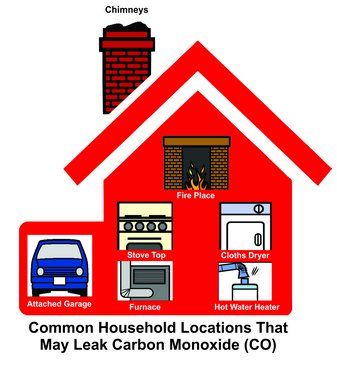 This article highlights why tenants in Baltimore need working Carbon Monoxide detectors.
(It also captures another day in the life of Chesapeake Property Management's property managers with a really scary story that turned out ok.)
>> See Chesapeake Property Managers Describe a Typical Day
Baltimore County Home Rental Requirements Include CO Detectors!
In Baltimore County, you must get a Baltimore county rental license in order to legally rent out your home.
One of the requirements for the license is to have a carbon monoxide (CO) detector outside every sleeping area. Other jurisdictions do not have this requirement but, thank goodness, Baltimore County does.
In addition, our leases state that the tenants must monitor all CO detectors and smoke detectors and notify us immediately if they are not working correctly.
Here is our scary story. After reading it, I think you'll agree that it's a really good thing that Baltimore County home rental requirements include CO detectors and that compliance matters.
Make Sure Carbon Monoxide Detectors Are Working Properly!
A few weeks ago Juli Stein, one of our property managers, went to a rental property and noticed that the CO detector was unplugged and sitting on the kitchen counter. When Juli asked the tenant why it was not plugged in, she said that it was not working correctly but she had not had a chance to send a maintenance request through the tenant portal of the website. Juli told her to do so immediately as this was urgent.
Juli received the maintenance request by the time she returned to the office and the CO detector was replaced and plugged in immediately.
At the same time, the furnace in the unit needed repairs. It was not working correctly, making noises and the Chesapeake Property Management team called out HVAC contractors to repair it. To make matters more complicated, the Landlord had an AHS warranty (we don't recommend them at all) so we had to use contractors that we were not familiar with.
>> See Who Is Doing The Repairs On Your Rental Property
>> See How A Good Property Management Company Can Save You Money
AHS called out their contractors who "band aided" the repair together on an 18 year old furnace. Thank goodness for the CO detector because on Friday night, the detector went off.
The tenant called the fire department; the fire department detected the CO levels in the home and immediately turned off the gas to the home and the furnace.
Had the detector not worked, this could have been a tragic story because the furnace was leaking carbon monoxide. And this was after the AHS' contractor had "repaired" the furnace. Scary, really scary.
Thank goodness the CO detector worked and that the tenants are safe. After many phone calls back and forth with the landlords and AHS, the furnace is finally getting replaced and this story ends well.
Lessons Learned For Tenants and Landlords
This scary situation centered around having working Carbon Monoxide detectors makes me appreciate the following lessons:
Landlords - Let your property management company hire the repair contractors for your rental home. We vet each contractor and know who to trust. AHS is a middleman and does not vet their contractors the way that we do. We don't trust them and have altered our Chesapeake Property Management agreement such that we don't call them for emergencies anymore. This is for the safety of all parties.
>> See Chesapeake Property Management Vs. Other Property Management Companies
Tenants - You are responsible for making sure that all CO detectors and smoke detectors are working properly in your home. If you are unsure, call your property manager. Check your batteries regularly and please take your safety seriously.
>> See How is a Tenant Repair Request Handled for my Rental Property
Chesapeake Property Management Cares About Tenants and Landlords
At Chesapeake Property Management, we truly care about every tenant, every landlord and every one of our properties. Sometimes we have to educate our clients on their responsibilities and tell them that they have to spend money, even when they don't want to. But it is our job. Maintaining your systems so that all parties are safe is paramount.
So, choose your property management company wisely. It could be a matter of life or death.
>> See Before You Hire a Property Management Company Ask 17 Questions!
>> See Who Can You Trust in Property Management?