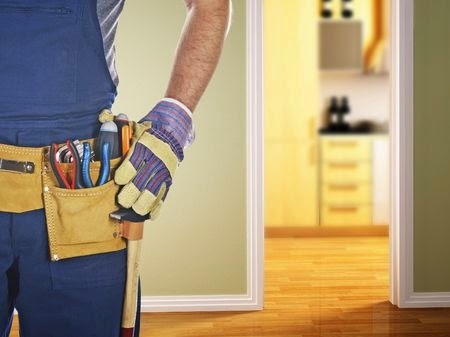 A question tenants and landlords frequently ask us is what is normal wear and tear on a rental property? What they really mean is how much money can you legally take out of a security deposit?
Interestingly, if we are going to have any points of contention with our clients, both landlords and tenants, this is usually the time. When it is time for the tenant to move out, both parties will often disagree as to what is normal wear and tear and we, the property managers, have to settle the score.
The Landlord wants the home to be perfect, which is usually unrealistic. There is going to be wear and tear and the home will not look exactly the same as it looked before.
The tenant usually wants to just pack and leave, not spackle, clean or do any repairs. But that is not correct, either.
Whatever final decision we make, one party is probably going to be somewhat unhappy. In order to avoid any misunderstandings, let's talk about it now.
>> See Renting an Individually Owned Home vs An Apartment: What's Different?
What Must a Tenant Do Upon Move Out From a Rental Property?
In our leases, we are very specific as to what a tenant has to do upon move out. Our leases require that tenants professionally steam clean the carpets, professionally clean the home, remove all nails, patch and paint large holes, and basically turn the home back to us in the same condition as which they receive it, normal wear and tear excepted.
Some issues are obvious - a large hole in the wall is not normal wear and tear and needs to be patched and fixed. A large stain on the carpet must be repaired and the carpet replaced. Large, obvious repairs are easy, it is the smaller repairs that tend to fall into the gray zone:
Did the landlord allow a dog? If yes, then there potentially is going to be more wear and tear than if landlords do not allow pets.
Did the landlord have odd paint colors? Did the landlord leave paint? Odd paint colors are hard to patch without noticing the patching and that has to be taken into account.
Are there little nail holes? Should the tenant patch the holes and potentially make them look worse or maybe just leave them alone?
If the carpet is so worn and discolored that it can't really be steam cleaned, should we require steam cleaning?
How does a tenant repair nicks in porcelain sinks or nicks on kitchen counter tops? Should we just leave them alone? How do we charge the tenant for that?
Does the grass have spots on it because the dog was chained out there every day? How do we repair dents in the garage door or dents in the walls? How do we price out or repair a chipped bathroom mirror?
We have to use our discretion in answering these questions every day. We want to abide by the terms of the lease and be as fair as possible to all parties. This is where the reputation, experience and the integrity of your property management company really matter.
>> See How A Good Property Management Company Can Save You Money
Rental Property Wear And Tear and Security Deposits
We often rely on this Montgomery County resource on normal wear and tear to guide us. We have not found another County in Maryland with a similar book so we have found this booklet to be helpful. Yes, I know it is from 2007 but it is a great guide.
Take a look at the Life Expectancy section as it is very important. We often refer to it when we have to replace an appliance or replace carpet due to excessive wear and tear and determine how much to charge the landlord and how much to charge the tenant.
In Maryland, if we do deduct money from the tenant's security deposit, we need to show receipts and actually have the work done by licensed and insured contractors.
>> See Who Is Doing the Repairs on Your Rental Property
We cannot withhold money, give it to the landlord and let the landlord do the work himself. So we document everything, are very careful and do the best that we can to bring the home as close to the condition that it was in prior to the tenancy. It is a tough spot, one we do not love to be in, but we know it is our job to use our discretion wisely and make as professional a decision as possible.
>> See Who Can You Trust in Property Management?
Know Your Lease. When In Doubt, Contact Us!
So, how do we avoid these difficult situations? Understand your lease, know what you can and can't do during the lease term, know your move out responsibilities, and, if you have any questions, call us before you make any changes or do anything to the property. By working together, we can avoid disagreements later. We believe in building strong relationships, educating our clients early and often and being available to resolve situations quickly, efficiently and professionally.
>> See 9 Reasons To Rent a Chesapeake Property Management Home in Baltimore
If you have a property management or lease question, please contact me. As always, we are here to help and we want you to have an enjoyable and pleasant stay with us.