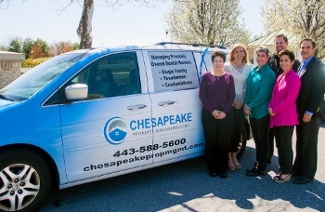 Are you looking for a property management company that will provide you with professional, consistent, competent and high quality business guidance and service? One that consistently applies high standards to the services offered to landlords and tenants alike?

If yes, you may want to learn more about Chesapeake Property Management, Inc. which was launched in 1997.

Chesapeake Property Management is the kind of company that you can count on to manage your property as if it were your own. It's also the kind of company that realizes that tenants are as important as landlords for successfully managed properties. Unlike other management companies, we don't refer to the number of 'doors' we manage. Although we use the term 'properties', we focus on the families living in those properties. Each door is actually a home and it's important to remember that.
Here are a few other aspects to think about when you are considering property management companies:
Did you know that many property management companies hold leases in their own name rather than in the name of the landlord? When that happens, the landlord signs away his or her right to approve leases or tenants; control over the property is gone. This used to be necessary before technology made it so easy to keep landlords in the loop and fully apprised of any situations. But it is not necessary anymore. Chesapeake Property Management only holds leases in the name of the landlord so that you know what is happening with your property every step of the way.
Many property management companies advertise low teaser rates, hiding landlord fees and service charges. We prefer to be transparent with fees so landlords know exactly what to expect and can budget appropriately.
For many property management companies, evictions are acceptable and a source of additional landlord fees. From our experience, evictions mean that, as a property management company, we haven't done our homework up front. Evictions are expensive and messy; they involve legal proceedings. During that time, landlords don't receive rent and can't determine the condition of their property. So why even let them happen? Chesapeake Property Management has had less than 5 evictions in 16 years of property management business. That's primarily because we spend a great deal of time taking care of the details up front. For example, rather than outsource tenant applications and approvals (which most property managers do and which in turn leads to higher eviction rates), we handle all applications and approvals in-house. (See Why Tenant Qualification Is Important.)
Check whether your property management company requires insurance. Chesapeake Property Management requires tenant insurance just as we require that landlords have insurance. We also ensure that the proper rental licenses and inspections are in place for the jurisdiction and county. Based on our experience, we know that the unexpected happens. Tenants and landlords thank us for helping them protect themselves in case issues come up.
Many property management companies provide services through in house maintenance resources (for which they charge mark-up fees). They also often don't check for licenses and insurance. To provide services for landlords and tenants, we have built relationships with trustworthy vendors who are licensed, insured and experts in what they do. Their rates are competitive and we charge no mark-up fees. Furthermore, we have no incentive to be inefficient with taking care of maintenance matters.
We know that landlords concern themselves about two questions related to tenants:
1. Will the rent be paid on time every month without any issues?
2. Will the landlord's home be taken care of in his or her absence? A good property management company does everything possible to give the landlord peace-of-mind that these two primary worries are nothing to be concerned about. We do this through intense attention to detail, our property management experience and the systems we?ve put in place.
What we've noticed over the years providing property management services is that there's a bigger picture that goes beyond a one-time tenant/landlord event. Becoming a tenant is a step in a journey. From there, tenants may buy a home, sell it, buy another, perhaps even become a landlord themselves. Rental property makes sense as part of a financial plan.
We realize that we are part of transitioning people through a process. That realization means that providing professional, consistent, competent and high quality business guidance and service matters a great deal to our tenants and landlords. Otherwise, why would they leave such terrific reviews for Chesapeake Property Management?
What matters to you in a property management company? How can we help you with your rental or home management needs? Let us know in the comments.