Annapolis Property Management
Let us manage your Annapolis rental property
Areas We Serve - Baltimore County, Baltimore City, Anne Arundel County, Harford County, Howard County and Carroll County.
Welcome to Chesapeake Property Management!
Owned and operated by Linda & Wayne Yaffe since 1997, Chesapeake Property Management ("CPM") solely focuses on managing individually owned homes. We personally know all of our Landlords and Tenants and aim to provide the most professional and pleasant leasing experience in the area.
Linda, a former corporate attorney, and Wayne, a former homebuilder, have lived in Maryland their entire lives and are Landlords themselves. They understand what Landlords want and need when it comes to renting out their homes.
We provide:
a transparent and simple fee structure (no hidden fees or kickbacks) so you can budget and deduct appropriately,


quick and efficient communication by our experienced team, so you are kept up to date and know what is happening with your home at all times,


knowledge of each jurisdiction's local licensing and leasing laws so you stay legal and in compliance,


thorough tenant screening systems (Linda still reviews every application!) so you can relax knowing we are using our 25+ years of experience to find you the most qualified applicants,


vetted licensed and insured vendors (many of whom we use on our own homes!) most are smaller, family-owned vendors that stand behind their work and have competitive pricing.
Whether you are going across the country or overseas, CPM's systems are designed to give our clients "peace of mind." We manage the entire leasing process, starting with inspections and licensing, then leading into leasing and property management. CPM ensures every step is handled legally and professionally by our experienced team, so you don't have to worry.
So fill out the contact form or give us a call. We look forward to speaking with you!
Inquire About Our Services
How Chesapeake Property Management Came to Be Before You Hire a Property Management Company Ask 17 Questions!
Our Mission
+
Provide you with Peace-of-Mind that your rental property is in sound, capable, trustworthy hands so that you can move on with your life.
Our Core Values
+
At Chesapeake Property Management our core values are honesty, transparency, professionalism and trust. We know how scary it is to trust your rental property and your bank account to a 3rd party. Our mission is to build that trust so that you can move on with your life and know that your rental property is in sound, capable, trustworthy hands.
Benefits of Chesapeake Property Management, Inc.
At Chesapeake Property Management, we pride ourselves on providing our landlords with high quality property management services that include the following:
We market your home to prospective tenants
+
Yaffe Real Estate, our sister company and licensed brokerage, markets your rental home to prospective tenants ensuring that your property remains vacant for the shortest time frame possible, thereby maximizing your income potential.
We determine tenant worthiness
+
This is one of the most critical roles a property management company plays: screening prospective tenants and determining whether the tenant is right for your property. This should include a credit history assessment and background check. A thorough check of the prospective tenant's background helps inform the property manager's decision of tenant worthiness. (See Why Tenant Qualification is Important)
We negotiate and document rental property leases
+
Tenants may request variations to the original lease terms – for example, length of the lease, the presence of pets, or payment details. The property manager will work with the tenant to negotiate and document any changes to the standard lease agreement. The lease should be very detailed and review all issues that may come up between landlord and tenant.
We maintain proper records for the rental property
+
A property management company maintains records of all income and expenses for a property. Documentation and receipts for maintenance performed on the property should be carefully cataloged and reported to the homeowner on a regular basis. Records should be completely transparent so that you can understand your account at all times and so that you can take as many legal deductions as possible. By being transparent with our fees, your accountant will be able to maximize your deductions and depreciation without putting you at risk.
We collect rent from the tenant
+
The property manager is responsible for collecting rent, security deposits, and damage deposits from the tenant and disbursing net income to the homeowner. Tenants who make late payments, or those who fail to pay, are held responsible for the terms of the lease agreement.
We diligently follow local, state, and federal laws that regulate rental properties
+
There are a variety of local, state, and federal laws and regulations that regulate rental properties that your property manager should follow and ensure that all guidelines are adhered to. These may include record keeping and reporting, the method of refunding deposits, and the basic procedure of renting properties.
We regularly perform rental property maintenance
+
Keeping the property in good condition and in working order is an important job of the property manager. Tenants will contact the property management company when something is in need of repair. The property manager will also ensure routine maintenance is performed on the home such as roof, HVAC, and electrical inspections.
We report to you, the landlord, on a regular basis about the rental property
+
A property management company will keep the homeowner informed on the status of the property, expected vacancies, necessary maintenance, and upgrades that need to be done to the home.
Our Property Management Technology
+
We invest in advanced technology systems so we can provide you with the best service and manage your properties efficiently and effectively. We have chosen property management and accounting software called AppFolio Property Manager. Some of the benefits that we are able to pass on to you:
We can respond faster and provide better service to both owners and tenants.
We can securely access information about all properties at any time and from anywhere. Sensitive data is securely housed in a state-of-art data center, and backed up regularly and automatically.
Monthly statements can be delivered to your email inbox, saving time and paper.
The statements are easy to read and provide you with a quick snapshot of your property details for the past month.
We address property maintenance issues faster.
We can create electronic work orders and communicate with vendors so we quickly solve issues.
You will be paid faster and more securely.
We are able to use electronic payments (ACH) to deposit funds directly into your bank account.
We can more effectively market your properties to fill vacancies sooner.
We can quickly and professionally advertise your properties on our Web site, Craigslist, and other Web sites.
For more information and added perspective, be sure to read
+
For more detailed information, please go to our blog where we answer many frequently asked questions.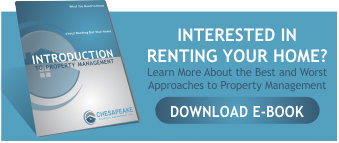 Contact Chesapeake Property Management Today!
If you want honest, professional, transparent service that you can trust so that you can move on with your life, Chesapeake Property Management is here for you. Check out our properties, our average price, and our locations. Check out our Google reviews. Talk to us directly. Let's see how we can help.
Areas We Serve For Property Management
Chesapeake Property Management proudly manages individually owned homes in the Annapolis Area. With 3 office locations, one in Baltimore City, one in Baltimore County and one in Anne Arundel County, we specialize in the following communities:
Baltimore County – Owings Mills, Towson, Cockeysville, Pikesville, Lutherville/Timonium.
Baltimore City - Federal Hill, Locust Point, Otterbein, Canton, Fells Point, Brewer's Hill.
Anne Arundel County – Odenton, Ft. Meade, Hanover, Severn, Crofton, Gambrills, Severna Park, Annapolis.
Howard County – Columbia, Ellicott City
Harford County – Belair, Aberdeen, Fallston
Carroll County – Westminster, Eldersburg
If you don't see your community on the list above, give us a call. This is only a list of the communities that we serve.
12 Tips for 1st Time Landlords In The Baltimore Market
Annapolis Area Information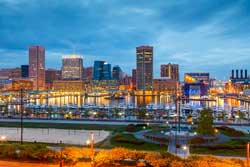 Annapolis is the capital of the U.S. state of Maryland, as well as the county seat of Anne Arundel County. Situated on the Chesapeake Bay at the mouth of the Severn River, 25 miles (40 km) south of Baltimore and about 30 miles (50 km) east of Washington, D.C., Annapolis is part of the Baltimore–Washington metropolitan area. Its population was measured at 38,394 by the 2010 census. Source From Wikipedia