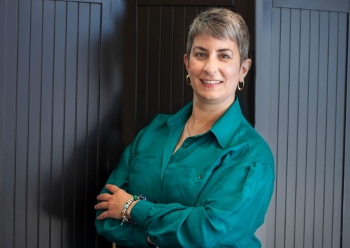 If you've interacted with Chesapeake Property Management, you may have met Kristin Karukas, whose official role is as office manager for Yaffe Real Estate and Chesapeake Property Management.
For both organizations, she plays an important role ensuring compliance for renters and landlords.
CPM: How did you come to join Yaffe Real Estate and Chesapeake Property Management?
My husband and I lived in Owings Mills NewTown where the Yaffe office is located. When we first moved in, the shopping center was just being built. My husband sells new construction for a local homebuilder. At the time, he was passing out information and noticed that the local real estate company had a help wanted sign on the door. I immediately went and met Linda Yaffe who hired me. It was perfect and located across the street from my home. 17 years later here I am. I started out on weekends, part-time. I expanded to weekdays, and then I became full time. It's been a busy, fun ride ever since!
As office manager, I ensure that the office is running smoothly and that clients are taken care of. I'm also in charge of compliance for the office.
CPM: Why is your compliance role so important?
Linda Yaffe is an attorney by training. She uses that legal training to assist people with their real estate decisions since real estate is a complicated legal process. That's true for Yaffe Real Estate and for Chesapeake Property Management (see 3 Reasons Why Yaffe Real Estate Got Started In The Baltimore Market and How Chesapeake Property Management Came To Be).
How I fit in is by backing up the legal part and making sure that every team member and every client and customer at Chesapeake Property Management is in compliance across the board. I make sure that documents are current, that landlords and tenants have the proper insurance, that all of the i's are dotted and the t's are crossed in the paperwork we file, that landlords are represented properly in leases, etc. Depending on the jurisdiction in Maryland, for example, tenants may be favored more than landlords and vice versa. I make sure that landlords and tenants are taken care of.
On the property management side, there is so little regulation that I spend time making sure that everyone is papered and protected.
To put this into perspective - the real estate business is highly regulated. Lawyers write up contracts, etc.; they must be part of local boards and national associations which oversee the process. Real estate agents must be licensed. To become a licensed real estate agent, there is an education process that is required and then you must pass a test and state exam.
There is nothing like that on the property management side. It is self-managed; anyone can be a property manager? There are no regulations in place, no rules and no code of ethics to oversee the craziness. You'll find plenty of liability and litigation, though, and mine fields that both landlords and tenants can walk into.
Chesapeake Property Management tries to make the process easier. We have landlords who have gone with other property management companies; they will come to us and complain that they can't get in touch with their property managers or that they never see rent payments. That's very frustrating.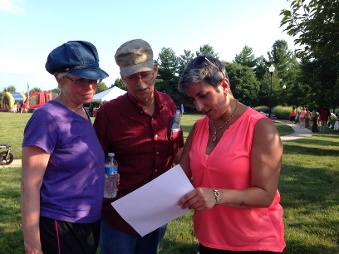 Kristin Karukas at National Night Out in Owings Mills New Town
We've heard of some landlords who will sign away their rights to a property management company and lose all control. That's when a lease becomes between the tenant and the property manager rather than the landlord; that's when checks stop coming.
Those situations don't happen under our watch at Chesapeake Property Management. We make sure landlords and tenants buy into and participate in the process. There is a lease between the landlord and the tenant. There?s an agreement between the landlord and the property manager. After all, it?s the landlord's house. We make sure that everyone has insurance and is protected as much as possible.
One of the reasons that Yaffe Real Estate and Chesapeake Property Management are still here is because we actually care about our clients and customers. Even if their credit isn't good, I?ll talk to them and answer questions. Everyone deserves to have someone listen; I try to help them. I try to bring some sense to an unregulated process.
CPM: What do you love most about your role?
I love getting to help people. My big reason for existing is to help people. I'm a psychology major by education; I practice it every day. It applies across the board whether I'm helping a landlord find a new tenant, or helping people find a new home, or speaking to people that others won?t give the time of day to because there isn't much money there. (BTW who's to know that someone won't come back when there is more money involved?)
Also, it's just fun. It's different every single day. If something or a solution doesn?t exist, we are able to create the solution. That?s how Chesapeake Property Management came to be. What we do comes out of a client need. As a result, after 17 years, we now manage 170+ properties.
CPM: What advice to you have for buyers, sellers, renters, landlords?
For renters - know your credit, pay attention to it because it?s a big deal. Lots of people do dumb things when they are young. That said, don?t open every credit card that?s offered to you and then accumulate debt. This will bite you. I see that frustration on a daily basis - people who wish they had taken care of it sooner. Don't wait. Fix it. It does matter. Also, pay attention sooner. I often get calls from people wanting to move in by this weekend. Plan ahead. Think about your move at least a month ahead.
For landlords ? you need to be invested in the process if you?re serious about doing this. You need to pay attention to your house, and be prepared for things breaking. It happens. Plan ahead for these things.
CPM: Thank you, Kristin!