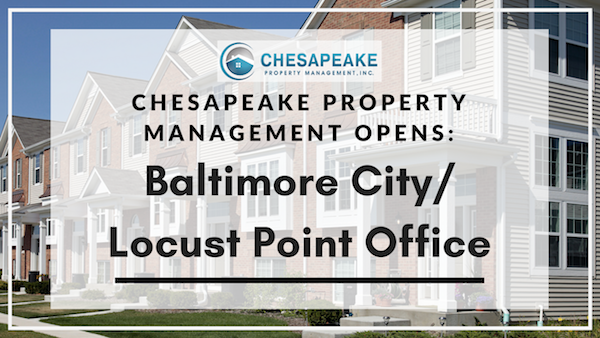 At Chesapeake Property Management, we are excited to announce the opening of our satellite office in Baltimore City/Locust Point. You can find us at 1414 Key Highway in the King Syrup Building. We wanted to be part of all the growth and energy that's happening in Baltimore City.
We have been serving the Baltimore Metro area since 1997 out of our County location, but felt that this is the time to put down roots in our hometown. This office will help us provide the highest level of service to our
local landlords
and tenants.
Why Baltimore City?
We have personal experience as owner/occupants and landlords, and that experience impacts our approach to real estate and its value. In addition to owning Chesapeake Property Management and
Yaffe Real Estate
, we also personally own investment properties in the area. We know that real estate can be an excellent long term investment, as long as it's done correctly. If you pay attention to details and educate yourself, owning a rental property can make a big difference in your investment portfolio. We have learned a lot from the properties we own and manage, and we're eager to share that knowledge and our resources with you.
As I mentioned in my recent "
Rent Vs. Sale
" blog, several neighborhoods in Baltimore city are appreciating quickly. Companies like Under Armor and Johns Hopkins Hospital are investing millions into the City. Port Covington is going to be an amazing community, and the areas around Johns Hopkins are being revitalized now. So, if you already own property in these areas, you may want to hold onto it. You can reap the rewards of your investments and allow your values to appreciate. Selling now would be like leaving money on the table.
Chesapeake Property Management: Our Landlords
Most of the landlords we work with are every day homeowners and professionals just like you. They want to keep their rental properties as long term investments, but they know the
risks that bad tenants can bring
. To avoid having tenants who don't pay or who damage their properties, they work with us to achieve peace of mind and to get on with their own lives while reaping the benefits of a rental property.
Our landlords in Baltimore City usually fall into one of these categories. You might see yourself in one of these profiles:
Medical Staff and Students.
Perhaps you're a resident or studying at Johns Hopkins or the University of Maryland, and you're moving out of state to do another residency or take a fellowship. If you have a home in Fell's Point or Canton, you know it might be better to rent it out. Being busy, you need a
full service management company
to handle everything professionally and transparently. That's what we specialize in, and we'll handle everything pertaining to your rental property while you're out of town. You'll stay informed through your landlord portal and you'll receive statements and updates from us regularly.
Start-Ups and Small Businesses.
Maybe you're a medical researcher or working in a local "start-up" and you'll be
moving to another opportunity out of state
. These landlords are busy and smart, and if this is you, the last thing you need is a tenant causing problems or a property manager unable to solve them. The systems we have in place will ensure every situation is handled professionally and with minimal expense and liability for you. We are your eyes and ears while you are away.
Moving Up and Out.
It's possible your home in Federal Hill or Locust Point was your first home, and now you're ready to buy something else with more space. Or, your life is changing and you're getting married, having kids, or just expanding. Keeping your investment can provide you with some extra financial security. We will manage it for you, whether you're moving to the suburbs or just to the other side of town.
If you have always thought about owning an investment property, now is the time to make a move. The market is strong, the interest rates are low, and you're in a positive position financially.
At Chesapeake Property Management, we have been providing
property management in the Baltimore Metro area
since 1997. We know that every home and every homeowner is unique. We take the landlord/property manager relationship seriously, and we'd love to discuss your situation with you.
Contact us
at Chesapeake Property Management, and we'll tell you more.